Elkhart, IN, October 22, 2021 – The Great Lakes Graphics Association (GLGA) has announced that Lithotone, Inc of Elkhart, IN is an award winner in the 2021 Graphics Excellence Awards (GEA) competition. Lithotone won the Best of Category Award in the Product Catalog Category (4 or more colors), for the Wieland Designs sixinch Catalog. In addition, Lithotone was honored with the Best In State award, for Indiana. 

The judging was conducted in late September 2021, by a team of Independent Judges. The GEA competition is one of the largest printing competitions in the United States.
Each entry was judged on its own merit in a category with similar printed pieces. 

The judging criteria included registration, crossovers, clarity and neatness, sharpness of halftones and line drawings, richness and tonal qualities of color, paper and ink selection, ink coverage, difficulty of printing, effective contrast or softness, finishing, bindery and overall visual impact.
Here I am, receiving the award award from Joe Lyman, President and CEO of the GLGA.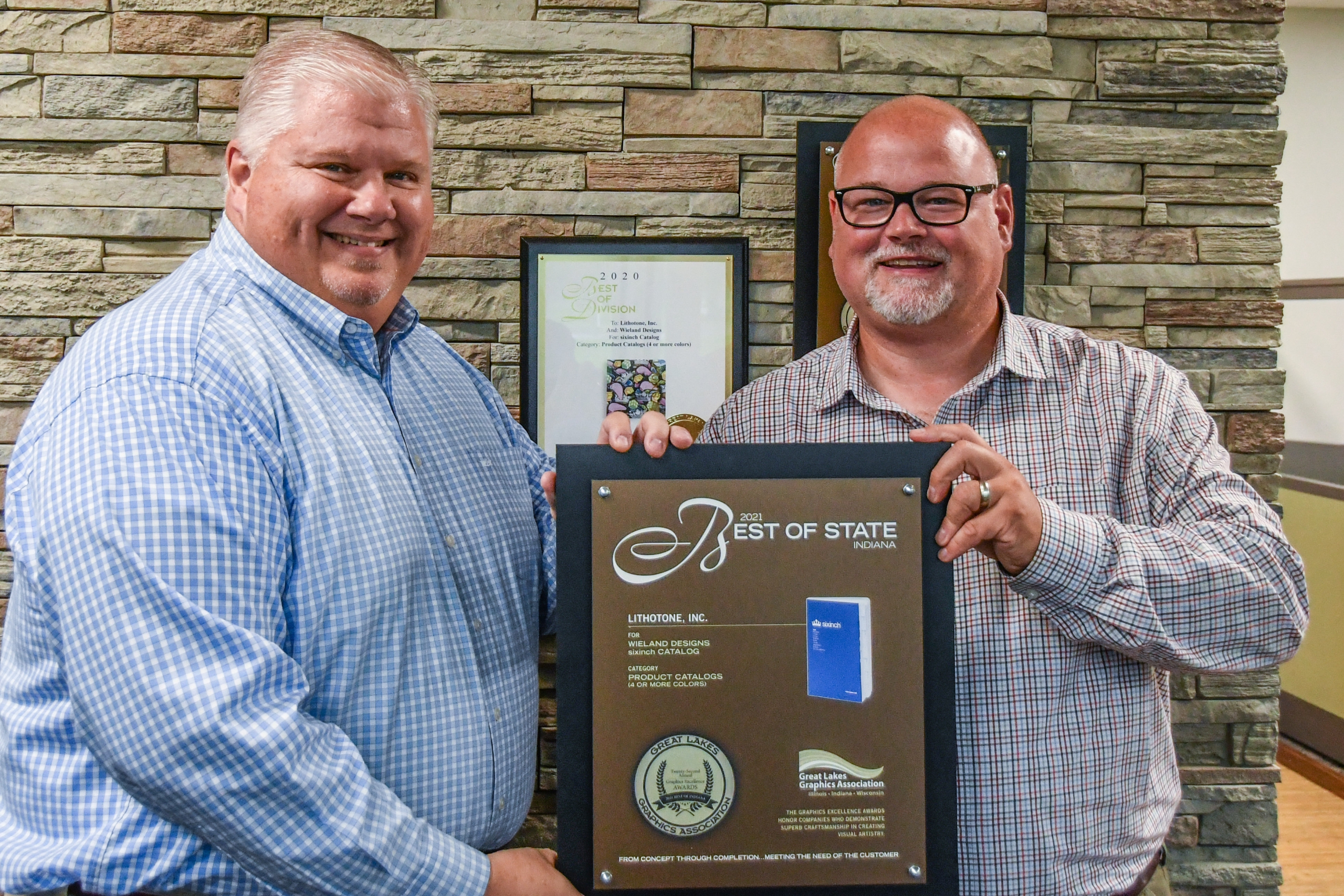 While I was honored to accept the award, it is the sales and production folks at Lithotone that made the award possible – Sales, Prepress, Press Room, Bindery, Shipping – they all make the magic happen, everyday.
2021 Graphics Excellence Awards – Best of Category Winners
Great Lakes Graphics Association – 2021 GEAs Top Winners


Media Contacts: For additional media inquiries please contact John Crawford, Director of Marketing and Sales, or Mark Alstott, Director of Corporate Development.
About Lithotone
Lithotone, Inc., founded in 1962 by Ken Priebe and Jim Powell, as a private, employee owned organization. Lithotone operates a print, bindery and fulfillment facility from their headquarters in Elkhart, IN.